TGIF!!!
and you know what that means....
time for my Friday Favs!
My new kit club addiction! They are a brand new kit club that is as obsessed with Prima as me! I can't wait to get my first kit!! This is a sneak peek of the March kit!
2. French Manicures
One of my fav ways to be pampered! I got my nails filled on Wed... don't they look gorgeous against this new
PRIMA
stitched paper? ;)
3. Robin Eggs
my FAVORITE Easter candy is hitting store shelves everywhere & Matt surprised me with a bag!!
4. Tomato Soup @ Paula's Cafe
Every Friday, Paula's Cafe in Mayville has Tomato Soup. It is the BEST Tomato Soup I have ever had in my life! It is so good, that a group of us now have a standing Friday lunch date at Paula's. I am about to go and get some now... YUMMMY!! :)
5. Baby Animals!
hopefully a sign that Spring is coming soon ;0)
We took Annie out to a sheep farm yesterday to see all the baby lambs that were born this week! We had a lot of fun- I sooooo want a B&W baby lamb!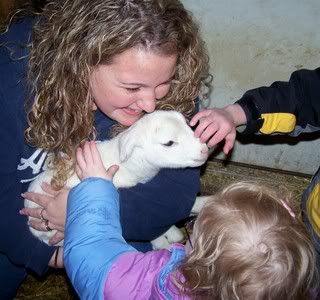 There it is... my Fav5 of the week!
I hope y'all have a FABULOUS weekend!! :0)