Tuesday, March 9, 2010
Posted by

Zoa
at 11:37 PM
1 comment:

Saturday, March 6, 2010
My boys recently had their Pinewood Derby in Cub Scouts, and the whole family decided to participate. They have an "open class" race for friends and family members, so we each made a car that fit our personalities.... and let me tell you, my family is pretty creative!
Matt made a Lego car, Julianna made an electric guitar, Simon a race car, Oliver a pirate ship & Anabelle made a "purple & green monkey" car.
I am so proud of Simon & Oliver- they ended up placing 1st & 2nd place!!!
All I could think about was making a PRIMA car (haha!) and then I got the great idea to make a high heel shoe- complete with Prima decoration... Not only does my car look fantastic, it came in 2nd place overall! I was beat only by my darling daughter, Anabelle and her monkey car.
Not a bad way to go in my opinion ;0)
Who says the Pinewood Derby is just for boys? This Diva had a blast! HAHA! ;0)
Happy Weekend~ Zoa
Posted by

Zoa
at 2:15 PM
No comments:

Tuesday, January 12, 2010
I am nominating myself for "BLOG SLACKER OF THE YEAR" award ;0)
It has been almost 5 months to the day since I last posted.... so many things have happened since then. I actually got burnt out of scrapbooking & decided to take a break. I never thought it would happen, but it did. I am just now coming out of the fog and it is like I have a crush- and my new crush is making my giddy!
I have a crush on Glimmer Mist, all the new Prima flowers, Webster's Pages, Lace, Stamps, Glitter, Smooch, Ribbon, CTMH, Pink Paislee, Basic Grey, Bling, Pearls Swirls & Flourishes.... oh yes- I have a crush and it is keeping me up at night. I have discovered the JOY in creating again!! HALLELUJAH!
So stay tuned... there is more of Zoa to come!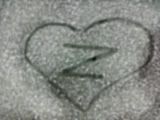 Posted by

Zoa
at 9:50 PM
5 comments: