TGIF! Happy Friday everyone!
I am getting my wisdom teeth surgically removed first thing in the morning, so I am posting these early.

Here we go:

1. Christian Louboutin Shoes
I came across this STUNNING shoe, appropriately named the "Dream Shoe" and I fell... in love that is! I don't know if I could actually walk gracefully in these shoes... but I am definitely wearing them in my dreams. I LOVE LOVE LOVE these heels!
2.
Farm Town
I am so obsessed with this Facebook App!! I have a farm and crops and animals... what more can I say? If you become my neighbor I will send you a tree or an animal ;)

3. EK Success Binding Edge Border Punch
Brand new and *hopefully* in a store near you- I LOVE this punch! It makes the paper look like it was just ripped out of a spiral notebook. AND- if you are lucky, you can get it on sale for about $10 this week @ Michael's!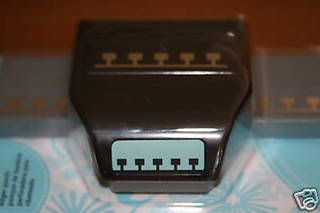 4. Real Housewives of NYC
I love Reality TV!!! This show is on my "must see TV" list right now- these women are hilarious & ridiculous and I keep watching, because I am dying to see what happens next.
(airs on BRAVO)


5. Ben & Jerry's Chocolate Fudge Brownie Ice Cream
Super fattening, but delicious! I plan to eat a lot of this while I am recovering from my oral surgery ;)