Now that the weather is nicer (most of the time anyway!) I have been taking more outdoor pics! I am especially trying to get lots of pictures of Anabelle doing everyday things- it has hit me pretty hard that she is quickly growing out of the baby stage and I miss her already! I want to make sure I can capture as many precious things about her as possible!!
Here are a few of the pages I have made this week about her. I have been using up my scrap kits mostly- trying to use up some of this stuff instead of always buying new!!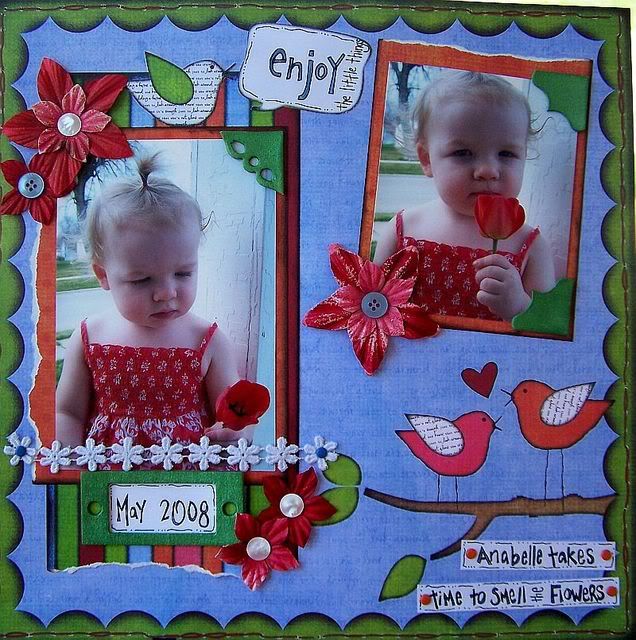 "Enjoy the Little Things" featuring the "Dream Street" kit from Scrapbook Sussies
Anabelle was exploring the tulip and I could not resist getting a couple shots- It was perfect because the flower was the same color as her dress!! (I love it when that happens!!)
This kit is adorable- a little "cutesy" for me- but I always like a good challenge!!
I used LOTS of glimmer mist on here- that is my new fun technique and I can't be stopped!!!




OK this page is priceless to me! I completed it using the "Sweet Spring" kit from
Life Preservers Club.

They have a monthly sketch contest and I made this page based on the sketch for April. I love this new line from Fancy Pants Designs!! It is so whimsical and fun! ...perfect for pictures of your baby putting on LIPSTICK!!! (lol)
The journaling on this page reads:


"I suddenly realized it was quiet.... I turned around expecting the worst, and there you were; putting on LIPSTICK
Some moms would cry, some moms would yell, but I just grabbed my camera & prayed for a good shot! May 2008"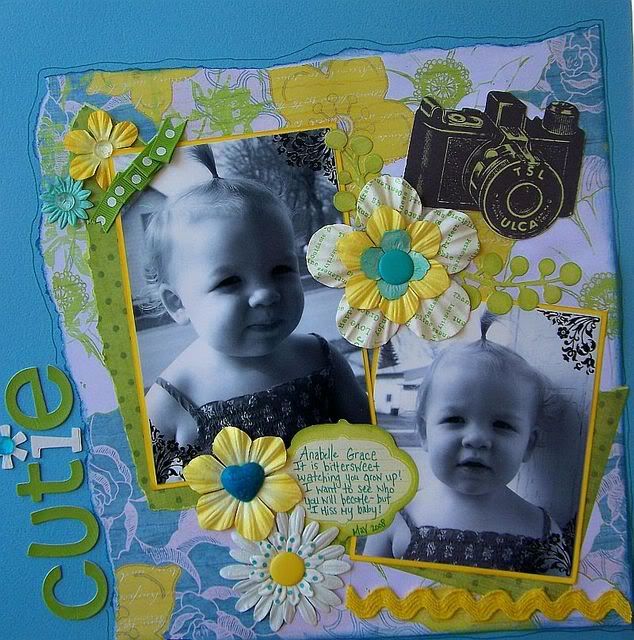 Ok- this last page was kindof an experiment..... I got a bunch of new Prima products during NSD weekend and I decided to play around. I always admire the crazy collages that some other scrappers put on their pages. I am always amazed that they can take random things that have NOTHING to do with anything on the page, and put them on there and it looks GREAT! So I did a little of that on this page. I am still undecided about whether or not I like the results- but I LOVE the colors at least!!!
Journaling reads:


"Anabelle Grace It is bittersweet watching you grow up! I want to see who you will become- but I miss my baby! May 2008"