This past week has been crazy!
I have been so busy- I have not blogged in 8 days-
I apologize- I hope I have some readers left!
I have had the best week :)
I have spent some time with new friends and that
has been wonderful!
I have gotten 4 new kits in the mail!
4! WOW!
I got my first DT kit for
Scrapbook Sussies
and I have already started playing with it!
I have to say- it is always a challenge
when you get a kit that is completely NOT your style,
but it is a great way to expand your scrapbooking!
I LOOOOVEEE the Sussies kits because
it is rarely stuff I would have purchased on my own-
but yet I always have a blast making my pages
with all the goodies I get!
These kits have some of the most
GENEROUS and AWESOME
embellishments I have seen for the money!
If you have never gotten a "sussie",
you gotta try one!
***********
Here are a couple pages I made with the recent
Itty Bitty Scrap Shack
September kit:
"Katlin" by Crate Paper
This is a great example of a kit that I would never buy!
The paper is very pretty (Julianna LOVES it!!!)
but it is just not my style at all.
It is very whimsical and fairytale like.
The first time I saw it, I immediately thought of a
TEA PARTY!
So that is exactly what I did,
I took a picture of my girls haveing a tea party :)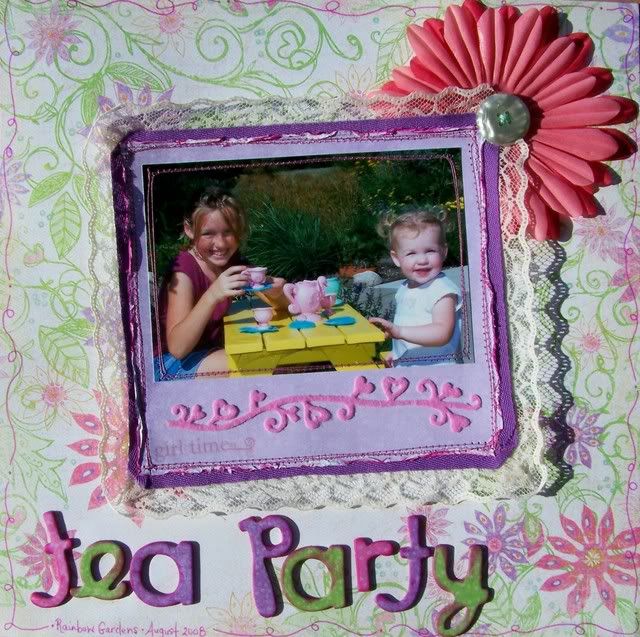 I actually really love the way this next page came out!
This is why I LOVE kit clubs!
I already said that I would not have bought
this paper normally-
but I am so glad I got this kit, because
I really love the way this page
"Pretty Girl" came out!
I made the fabric flower out of coordinating fabric scraps
and added the cardstock leaves that came in the kit.
More pages and projects coming from this kit soon
PLUS!
More pages from other kits too!!
Have a Great Weekend Y'all!!!