Moments 2 Remember
It is kit reveal time!
Here is the WONDERFUL FALL kit:
Beautiful Life
This kit is only $15!
It is amazing how much stuff you get
for that awesome price!
But you need to hurry- there are only 2 left!!
Our October kit includes:
Bo Bunny Beautiful Life Leaf double sided paper (2)
Bo Bunny Beautiful Life Stripe double sided paper (2)
Bo Bunny Beautiful Life Dots double sided paper (2)
3 matching solid cardstock (various fall colors)
Basic Grey Sublime Letter Stickers Sheet
Maya Road Chipboard pieces (5)
Fall Silk Leaves (4)
Hand Crochet Fall Flowers (3)
Hat Pin with Bead
Jute
Journal Square
2 pieces of fall colored mulberry paper
Apple paper piecing
Cello Treat Bag
Exclusive "Owl" paper piecing by Shannon Morgan
********
Here are the projects I made with this awesome kit:
"Lil Pumpkin"
Pictures of Julianna @ the Pumpkin Patch when she was only 5!
I made the flowers out of the PP and
used ink and glimmer mist for the owl.
I love the VINTAGE feel!!!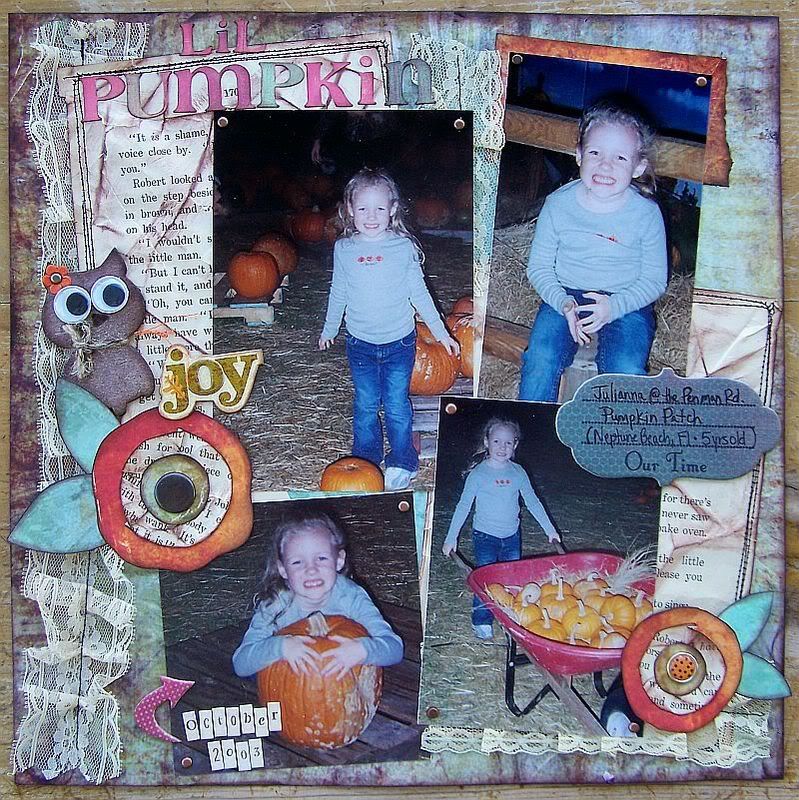 "Pumpkin Patch"
My son, Simon when he was only 3!!
What a cutie pie!!
I am also using this page for the M2R Oct Challenge--
scrap your pictures that aren't so "great"!
"Fall Candle Project"
I decided to embellish a candle for fall.
My sister LOVES fall decorations-
so I bought her favorite scented pillar candle from Pier 1
(ginger peach- which also coordinates beautifully color wise!)
I decorated the candle for fall, with a removable sleeve.
This way she can remove the sleeve to burn the candle
and save the decoration for years to come.
The smaller votive is also ginger peach-
and I stuck the little crocheted flower on top because
it reminded me of an acorn!!